Have you used Big Twist Value yarn from Jo-Ann Fabric and Crafts? Next to I Love This Yarn! from Hobby Lobby, this is my favorite of the worsted weight value yarns. Let's talk about why, shall we?
Big Twist Value Yarn Review
Big Twist value yarn is sold at Jo-Ann Fabric & Crafts in 371-yard skeins of 100% acrylic gold. It is a size 4/worsted weight yarn and while it is slightly scratchier (and I do mean slightly) than Hobby Lobby's I Love This Yarn! it isn't so scratchy as Red Heart Super Saver. Don't act like you don't know what I'm talkin' about.
The recommended hook size for Big Twist Value yarn is an H and each solid colored skein weighs 6 oz (or 5 oz for their Ombre line). You'll want to machine wash and dry these bad boys, but don't even think about ironing or bleaching. I can't imagine why I would iron yarn but hey, this is a review and it needs to be said.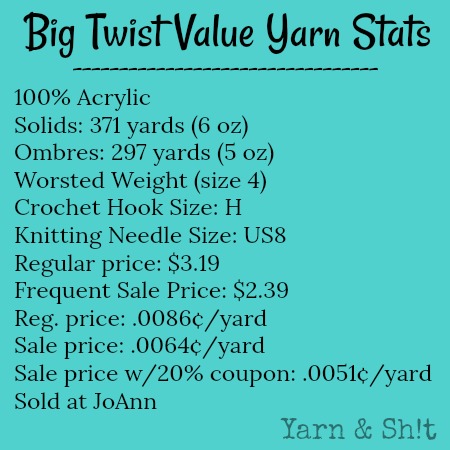 Big Twist Value
Now let's talk money, honey. While I don't mind throwing down a bit for some nice soft yarn, when it comes to regular ol' worsted I want value as well. And Big Twist value yarn is a steal folks at $3.19 regular price. Let's break that down to price per yard, mmmkay?
While Hobby Lobby's I Love This Yarn is actually a bit smaller (355 yards instead of Big Twist's 371) it is more expensive regular price. Sure, you can get I Love This Yarn for $2.39 after their 40% off ONE regular price item coupon, but Big Twist Value goes on sale quite frequently for $2.39 as well.  Why does this matter? Well, at Jo-Ann (when available) you can add a 20% off entire purchase coupon on top of the sale price. Meanwhile at Hobby Lobby you can not use coupons on sale prices.  You dig? So, pair up that JoAnn's coupon while they're on sale for $2.39 and you're looking at just $1.91 per skein! Hell yes you are!
One more thing? The rebate app called ibotta – super easy to use – frequently offers $1.00 rebates for buying just ONE Big Twist Value yarn.
Let's say that the stars align at just the moment you get to the register (and this has happened to me on multiple occasions) you'll pay as little as 91¢ out of pocket after their frequent sale, a 20% off entire purchase coupon (don't forget they let you use applicable Michaels coupons!) and you redeem for that $1.00 back from ibotta.
We're talking yarn gold, here. SOLID GOLD.
Have you used Big Twist Value yarn in a project yet? If not, you are in for a treat when you do.  Check out the color combo on this blanket… 😮
More craft product reviews: 
Hobby Lobby's (ILTY) I Love This Yarn Review
Clover Soft Touch Crochet Hooks Review
…with many more to come