Are you looking to invest in high quality crochet hooks? Clover Soft Touch Crochet Hooks are my absolute favorite. Let me tell you why in this comprehensive review!
Clover Soft Touch Crochet Hooks Review
These crochet hooks are the absolute best I've had my hands on. Or around? While they aren't exactly ergonomic, there's something about the texture of the handle and the smooth glide of the hook through the yarn that I just can't find with any other brand of hooks.
Clover Soft Touch Hook Size
Each of the Clover Soft Touch hooks are right at 5″ in length, from the tip of the hook to the bottom of the handle – no matter the hook size.  The hook (shaft) portion itself is about 1.5″ in length leaving you 3.5″ for the grip.  This may seem short but they fit in my hands perfectly and I have average sized hands.
Clover Soft Touch Weight
The Clover Soft Touch Crochet Hooks are extremely lightweight.  It almost feels as if you're crocheting with nothing at all, especially when paired with the super smooth steel tipped metal of the hook's shaft.
Clover Soft Touch Handles
One thing I really love about the Clover Soft Touch crochet hooks is that no matter what size the hook, the handle size remains the same. This means that we could be crocheting with a tiny little size C crochet hook just as easily as we could with the much larger J hook – all with the same feel in our hands. I loathe working with tiny hooks without any handles and even more so now that I am spoiled by these fancy buggers.
With regular aluminum or steel hooks my hands cramp up which, in turn, puts a cramp on my crochet style.  Not so with these gems.
No Pet Hair
One thing I also love about these crochet hooks is that they do not attract pet hair (or human hair)! We have three dogs, two of which shed like crazy.  I do my best to keep the pet hair away from my yarn as I crochet, and it seems that these hooks almost repel the hair. I can only assume this is because they are plastic and not the rubbery material as in other brands.  Worth noting though, that's for sure!
Review in summary
In short, the Clover Soft Touch crochet hooks are absolutely my favorite hooks. While I do have many other brands in my hoard including Susan Bates, Lion Brand's crochet hooks and plain ol aluminum hooks, these will forever be a favorite.
Are these crochet hooks an investment? Sure. But I can accomplish much more crochet at the end of the day, and that's what it's all about right?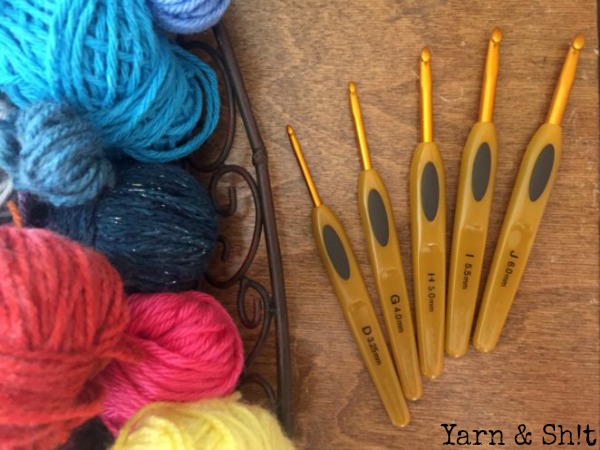 Do you love Clover Soft Touch crochet hooks? Why or why not?  Let us know in the comments!