Have you tried Caron One Pound yarn? Do you love it? Do you hate it? I've read both sides of this story, and I've got my own two cents to throw in the pile with this Caron One Pound yarn review!
Caron One Pound Yarn
During my most recent weekly (seems like it, anyway) lunch time run to Joann, I inwardly – and perhaps a bit outwardly – squealed when I turned the corner of the yarn aisle and made eye contact with these fabulous One Pound skeins of fiber glory.
Caron One Pound is literally that: one pound's worth of worsted weight yarn. When I say worsted I mean medium/Aran/size 4 yarn.
If you've been playing with fiber for a while now, you'll know that there is no REAL standard measurement for yarn thicknesses. This means that when we're talking about sizes of yarn on a scale of 1 – 6 (1 being smallest) all size 4 "worsted weight" yarn should be pretty similar in thickness. And many times they aren't.
You've got your I Love This Yarn! which is slightly on the left (thinner) side of 4, then you've got your Pound of Love that really could be a size 3 yarn, then you've got your Caron Cakes and Sweet Roll cakes which are right in the smack dab middle. Then there's Caron One Pound hanging over on the right, a tad bulkier than the others.
I love the thickness of this yarn and if I could re-work the yarn weight categories, I would rate this as a 4.5 weight. It is thicker than other size "4" yarns (as in more dense), it does not have any give whatsoever, and softens nicely in the wash.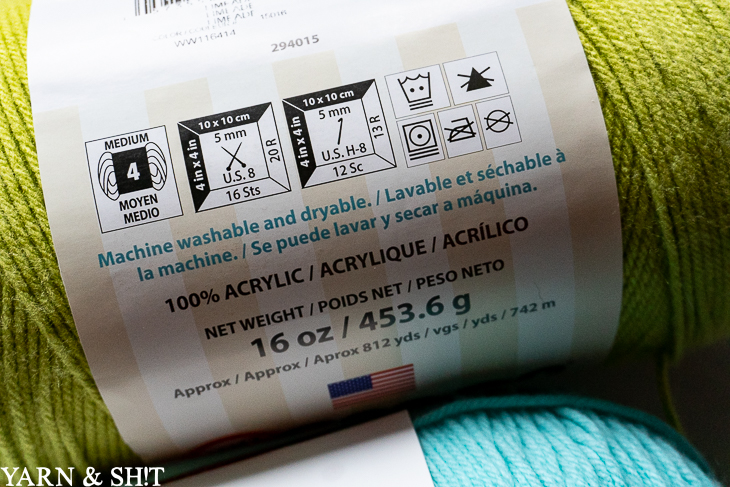 Caron One Pound…
is 100% Acrylic
contains 826 yds (Solids); 618 yds (Ombre)
suggest an H/5mm crochet hook
*although I find with my tension a L/8mm hook works better
has no dye lot
*but I've experienced some color variance in the past
Review summary
While Caron One Pound yarn is a bit on the thick side of a "size 4" yarn, I love the colors, the texture, the sturdyness of the fabric created and how soft it is after washing. I give this yarn 4 out of 5 stars.
This yarn is excellent to use in blankets, graphghans, wearables and amigurumi. Allll of that. What have you made using this yarn, and how would you rate it?
More yarn reviews:
Hobby Lobby's (ILTY) I Love This Yarn Review
Jo-Ann's Big Twist Value Yarn Review