Do you have a running mental list of your favorite yarns? I know I do, and for me that list includes Impeccable yarn by Loops & Threads. So we are goin' to talk about it today.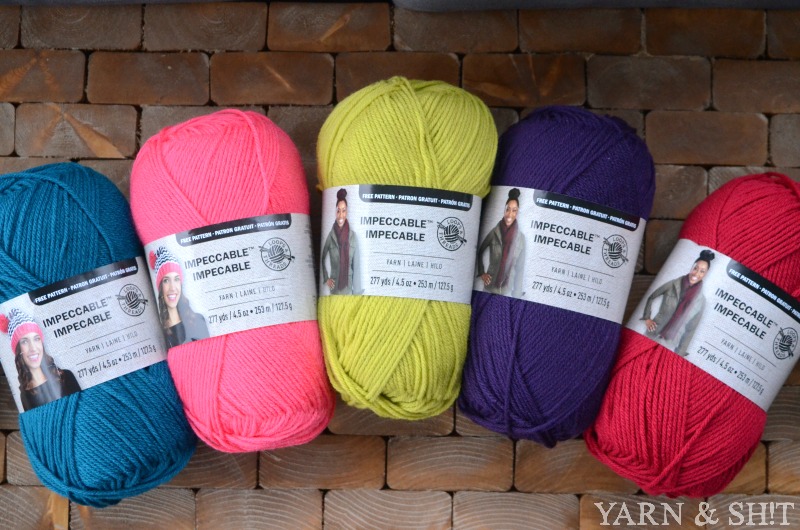 Impeccable Yarn Review
Impeccable yarn is one of my favorite yarns because it is soft (and softens considerably after washing), it is available in a wide variety of colors, is available in two skein sizes (regular and jumbo), it is frequently on sale, and it does not have a lot of give to it.
Sometimes when you crochet a blanket or other project, after washing the item loses its shape. This happens with some yarns more than others (this yarn in particular) so when crocheting certain items (namely wearables) I am mindful of just how well the yarn used will hold its shape. My point here is that Impeccable yarn is a form holding, yet soft, reliable yarn. And that's why I love it.
Impeccable yarn…
is a size 4/medium/worsted/Aran weight yarn
is available only at Michaels stores and online
*Loops & Threads is their line of yarn
frequently goes on sale for $2.00 (USD)
*regular price is $3.49
contains 277 yards (253 m) (4.5 oz) (127.5 g)
large skeins contain up to 885 yards (solid) or 557 yards (ombre)
*available in-store only for $9.99
softens considerably after washing
does not lose its shape
Impeccable would be a great yarn to use in a graphghan or regular afghan, or when making amigurumi, wearables, purses, jackets… in fact I can't think of anything I wouldn't want to make using Impeccable yarn.
Review Summary
I give Loops & Threads Impeccable yarn a solid 4.5 out of 5 stars. I don't see why I would ever stop using it, and the only thing I would like to see is a more diverse selection of colors. But honestly, they've got a nice selection already.
Have you used this yarn before? What would you rate it, and why?
More reviews and shit:
Clover Soft Touch Crochet Hooks Review
Jo-Ann's Big Twist Value Yarn Review
Hobby Lobby's (ILTY) I Love This Yarn Review