Is your cast iron skillet looking a little… naked? Spruce it up with a Penis Pan Handle Cover using this free crochet pattern.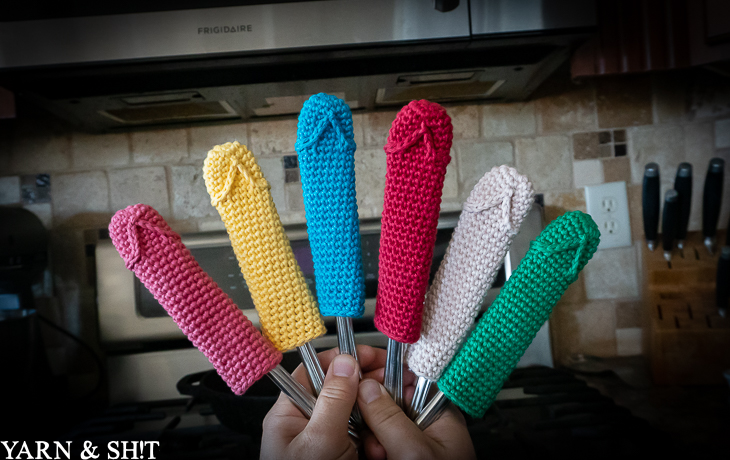 Penis Pan Handle Cover
This phallic pan handle cover is perfect for your inappropriate friends, or maybe even more appropriate for the prudes! Can you imagine sending one of these to your uptight neighbor (or aunt, cousin, in-laws, etc), watching as they open – with horror – to find a mysterious crocheted penis?! I'm cackling just picturing it.
Add this to your Ravelry favorites here.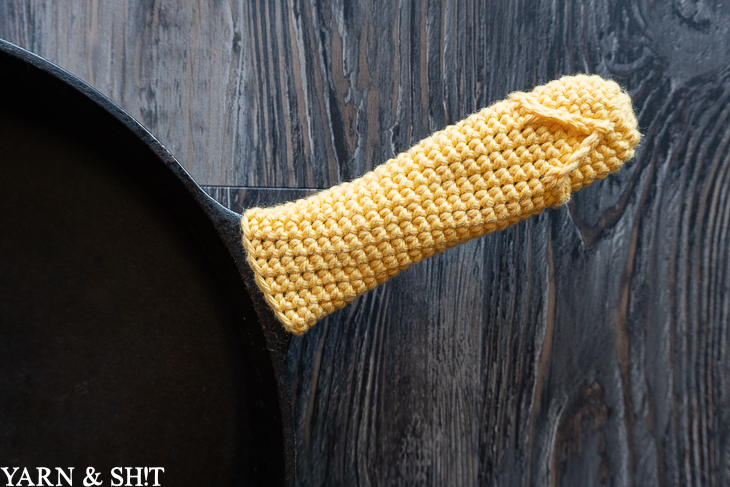 Materials
Worsted cotton (I Love This Cotton used)
Notes
Hdss=half double slip stitch (worked just like it sounds)
Pattern
Round 1: Magic Circle, 10sc in circle. Join to first sc with sl st. (10)
Round 2: Ch-1, *1 sc in next, 2sc in next*, repeat * * around. Join to first sc with sl st. (15)
** sew beginning tail in now **
Rounds 3 – 8 : Ch-1, sc in each stitch around. Join to first sc with sl st. (15)
Round 9: Ch-1, hdss in 1st st and next 4 sts, skip 3 sts and place a stitch marker in the 4th st., ch 4, centering above skipped sts, sl st around the 3rd row, ch 4, sl st into marked st, hdss in next 6 sts. Do not join. (11 Hdss, 4 skipped st)
*working in a spiral from here on out*
Round 10: Sc in the 3rd loop of 1st 5 hdss, sc in each of the 3 skipped sc and the next st from row 8, sc in 3rd loop of last 6 hdss. (15)
Rounds 11-32: Sc in each st around. (15)
Sl st in next st, fasten off and sew in tail.
Done! Just 32 rows to pan handle glory. Hell, you could even stuff it and sew it shut and use it as a stress ball. I ain't even mad.
If you liked this, I think you'll love my Penis Body Pillow pattern.